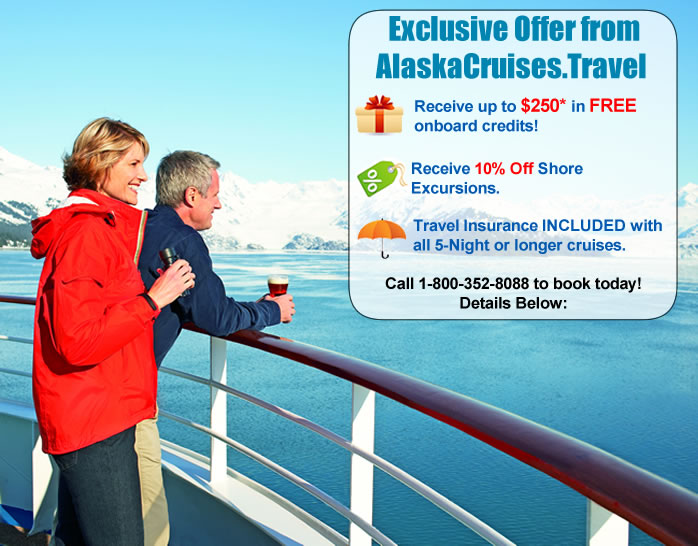 Thank you for visiting AlaskaCruises.Travel (the #1 source for Alaska Cruise vacations). As a special thank you, we are now offering for a LIMITED TIME, FREE Onboard Credits up to $250* on ALL Alaska Cruises! Wait there's more....
We are also including 10% Off any Alaska shore excursion booked via our partners at ShoreExcursionGroup.com. And, if this wasn't good enough, we are INCLUDING Travel Insurance with all 5-night or longer Alaska Cruises.
So, how does it all work? It's quite simple actually. Use the Alaska Cruise search form below to find your desired Alaska cruise vacation. Once you find an interesting itinerary, proceed to the details screen. At the details screen, you will be given the opportunity to request a special discounted rate quote. Simply fill out this form and you will immediately receive a confirmation email which contains your digital coupon codes for both the FREE onboard credits and 10% off shore excursions. Your onboard credit amount is based on your stateroom selection. Book an inside stateroom and receive a $25 onboard credit. Book an Oceanview stateroom and receive a $50 credit. Book a Balcony and receive a $75 credit. And, the number keeps growing as you move up to higher end staterooms. If you book any type of Junior or Mini Suite, you will receive a $100 onboard credit. For those booking deluxe suites, you will receive the ultimate reward of a FREE $250 onboard credit. Best of all, these onboard credits, discounts off shore excursions and travel insurance may be combined with any other offer shown on AlaskaCruises.Travel.
Once you are ready to book your cruise to Alaska, simply pick up the phone and call 1-800-352-8088. Provide the reservation agent your digital coupon code for your onboard credits and they will automatically be applied towards your new Alaska cruise reservation. In addition, Travel Insurance will also be automoactically included at the time of reservation. You may book and receive your discounts off shore excursions at ShoreExcursionsGroup.com.
So, what are you waiting for? Use the search form below to start saving on your new Alaska Cruise vacation!