alaska cruises from san francisco, california
alaska cruise from san francisco, ca
Since San Francisco is one of California's major cities, travelers who depart for their Alaska cruise from San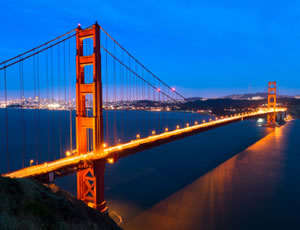 Francisco will find plenty to do before their cruise vacation. San Francisco features classic Victorian architecture, cultural diversity and picturesque sights. The city's first known inhabitants were the Yelamu Indians, and in 1776, Spanish settlers arrived and established a mission community. During the early 1800s, the city belonged to Mexico, but when the United States claimed California in 1846, it became a part of America.
San Francisco's population grew with the California Gold Rush of 1848 because many immigrants arrived to become rich. In fact, a large number of Chinese people came to the city, and as a result, San Francisco's Chinatown is a thriving section of the community. Today, San Francisco is one of the most popular tourist spots in the United States.
places of interest
Before or after a cruise vacation from San Francisco, tourists may view famous structures such as the Golden Gate Bridge, Alcatraz and Pier 39. As one of the world's most recognizable bridges, the Golden Gate Bridge will thrill travelers with its size. From 1937 until 1964, it was the longest bridge in the world. Furthermore, the city painted it an especially bright color called "international orange." Alcatraz is another popular place to visit as it once held famous villains like Al Capone. The island has a unique history since it was also the site of the West Coast's first lighthouse as well as a Civil War fortress and a natural bird preserve.
To eat, shop and sightsee, be sure to visit Pier 39. The destination is a 45-acre complex located near Fisherman's Wharf. From Pier 39, guests can view the Golden Gate and Bay Bridges, Alcatraz and San Francisco's cityscape. While visiting the pier, travelers will have the opportunity to take a picture of a sea lion because hundreds of them live near the structure.
shopping opportunities
Cruise vacationers can shop for souvenirs at Fisherman's Wharf. The renowned shopping site features T-shirt boutiques, camera stores and specialty shops. If cruise ship passengers discover that they've forgotten a needed vacation item, then they should visit Union Square, which has major department stores like Macy's and Nordstrom. To shop in charming boutiques and unique shops, be sure to visit The Golden Gate section of town.
San Francisco's appeal
San Francisco is a charming city that will surely entertain visitors with its history, culture and splendor. While visiting San Francisco, cruise passengers may purchase a unique souvenir or view a world famous site. Furthermore, the city will ensure that guests are welcome.