disney cruise line to alaska
discover alaska with disney cruise line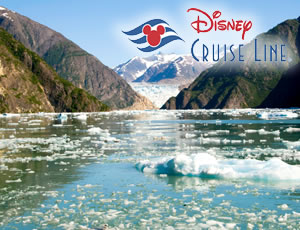 A Disney Cruise to Alaska lets travelers see magnificent terrain, glorious mountains and captivating wildlife. During the journey to Alaska, the Disney cruise ship will stop at different ports of call, which will allow passengers to view the state's most distinctive features such as historic fishing and mining communities, Native American culture and natural landscape elements.
dining opportunities
While onboard a Disney cruise ship, guests have several different dining options. Parents who travel to Alaska with their children will appreciate the cruise line's adult dining option, which allows parents to reconnect with each other and experience a romantic outing. Casual dining is another eating choice to consider as food choices such as wraps, Panini's, pizza, burgers are always available. Main dining on a Disney cruise includes three primary restaurant experiences that offer unique entertainment.
Accommodations
Disney Cruise Line's staterooms feature design elements that will permit families to sleep comfortably. Accommodations range from tranquil interior staterooms to luxurious suites with several rooms and picturesque views. All of Disney Cruise Line's staterooms are spacious with plenty of storage and split bath areas that have a separate sink. Guests will receive personal attention from Disney's staff members as well as in-room dining service.
Shore Excursions
Disney Cruise Line arranges several Alaskan excursions such as the journey to Tracy Arm, which is a fjord situated about 45 miles south of Juneau. Tracy Arm is in the Tongass National Forest, and once there, guests will be enthralled by the destination's splendor. The site features colossal glaciers, pounding waterfalls and regal mountaintops. Guests may even view some of the state's wildlife. In the port of call, Skagway, guests can stop by the Klondike Gold Rush National Historic Park to see more of the state's natural beauty.
onboard activities
On a Disney cruise to Alaska, young passengers can meet their favorite characters such as Goofy, Mickey Mouse and Cinderella. Deck parties are included, and during the celebration, passengers can participate in a dance party with family members, friends and the ship's crew.
Reasons to choose disney cruise line
A charming experience is waiting for guests who board a Disney cruise ship sailing to Alaska. The cruise line provides a magical experience for guests of all ages with its entertainment, food and innovative accommodations.