cruise from seward, alaska
ABOUT seward, alaska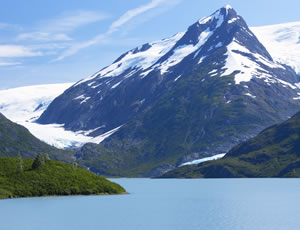 As one of Alaska's oldest and most charming communities, Seward is an entertaining departure port for cruise line passengers. The town's location is at the south section of the Seward Highway, which is the roadway that connects Anchorage to the Alaska Railroad's southern station.
William H. Seward, who was the United States Secretary of State, was influential in arranging Alaska's purchase from Russia in 1867. As a result, the town of Seward was named for him. Railroad surveyors established the town in 1903, but in 1964, an earthquake and a tsunami destroyed some of Seward's buildings. Fortunately, many of the town's citizens were able to escape safely to higher ground. Today, the town's main industry is commercial fishing and coal.
Sightseeing
Cruise ships dock about one half mile from the town's historic downtown area to preserve Seward's small town ambiance. Since many of the town's early 20th century buildings endured the earthquake, cruise passengers will enjoy viewing these classic structures.
PLACES TO VISIT
To see some of the state's sea life and wildlife, cruise passengers should visit the Alaska Sealife Center. The facility features large cold-water tanks as well as exterior viewing decks. At the center, guests can enjoy interactive displays with cold-water fish, marine mammals and seabirds. Travelers can also spend several hours viewing Exit Glacier, which is a park in the Kenai Mountains. The park has massive ice caps that cover more than 1,100 square miles. A section of the glacier is near the edge of the park's boundaries. It also skirts Seward's borders. To reach the park, active travelers can hike along a trail that is conveniently located just outside of town.
places to shop
Fine art is available from several places in Seward, but one of the best locations to buy original artwork is from the Resurrect Art Coffeehouse. For traditional souvenirs, stop by the Ranting Raven, and while there, be sure to enjoy a fresh baked treat or an espresso drink.
ACTIVITIES
There are many activities in Seward for travelers to enjoy since the bay's protected waters are ideal for sailing, fishing and sea kayaking. Travelers can also watch marine wildlife when they spend time on the water. A dog sled tour is a memorable expedition that guests will surely enjoy. The adventure includes a helicopter flight to the Godwin Glacier, and during the tour, guests will learn about mushing from a professional dogsledder.
Seward is an idyllic destination since it offers memorable sightseeing opportunities, unique tours and entertaining activities.