Alaska cruise lines - travel details
Ever wonder what is included in an "All Inclusive Alaska Cruise"?
A good "All Inclusive Alaska Cruise" deal is one which includes round trip air, transfers between airport and ship, shore excursions, free beverages, and per-paid gratuities. Some offer free breakfasts, cocktails, and more. Good "Deals "also remove the worry of being left on a private island by taking advantage of guided excursions, which guarantee your departure will wait until your return.
During optimal cruise season, Alaska Cruise Vacationers can expect 55 to 65 degrees Farenheit during cruise season in the inner passage. It is 10 degrees colder on average during the day through the summer months. In South central Alaska May, June, July and August experience 17 to 18 daylight hours per day, with an average of 16 in August.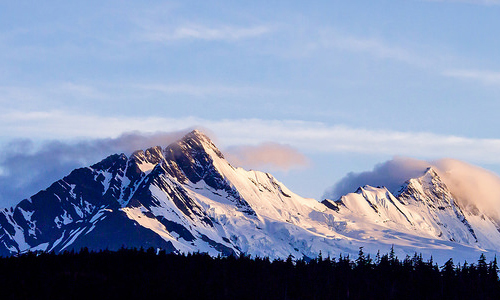 Typical Alaska Cruises are seven-day cruises most commonly beginning and ending in Vancouver, British Columbia, or Seattle, Washington while the first and final days at seas, traveling along the coast of mountainous British Columbia. After arriving in Alaska, most Cruise Ships visit different ports at each of four days with and one day allocated for traveling at Glacier Bay National Park where calving glaciers are common sight.
To escape the crowds during busy season, cities like Juno are a retreat for those wanting a slower paced environment.
Because of ideal weather conditions in Alaska from the middle of June through late August, cruisers see this as the ideal time to visit and Alaska Cruise Ships are booked to capacity accordingly. You can also expect more families, children and teenagers during the busiest season for tourism with the majority of cruise passengers coming from the U.S., (82%). In fact, the western United States represents nearly one-third of the total market for Alaska Cruises.
See below for popular cruise lines that currently sail to Alaska: