regent seven seas to alaska
discover alaska with regent seven seas cruises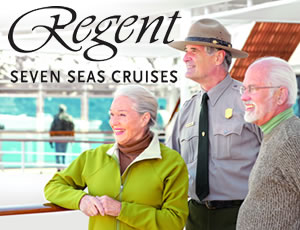 Alaska is large, bold and stunning with its ageless glaciers, snow tipped mountain ranges and bright blue sky. Upon arrival, Alaska's guests can spend time exploring frontier towns and harbors. In fact, the state's local residents will welcome travelers and share tips and recommendations to help them experience the best that Alaska has to offer. One of the best ways to fully experience Alaska is on a cruise. While many Alaska cruise options exist, guests who wish to be fully pampered should consider trying the luxury cruise line, Regent Seven Seas.
dining opportunities
To ensure that guests have an amazing dining experience, Regent Seven Seas purchases fresh produce from international markets, delectable baked breads and artisan cheese. The cruise ship's chefs will then use the local ingredients to create mouthwatering menu items. Guests can also enjoy French cuisine and Mediterranean food as well as classic menu items such as Filet Mignon and Lobster.
Accommodations
When vacationers decide to cruise to Alaska with Regent Seven Seas, they will have expansive and comfortable accommodations as all staterooms are oceanview luxury suites. Furthermore, most of the suites have a private balcony. Suites include amenities like flat screen televisions, large closets and stocked refrigerators. High-end suites even offer passengers the service of a butler.
Shore Excursions
While traveling on a Regent Seven Seas cruise to Alaska, guests can take part in numerous shore excursions. For example, a stop in Seward includes an expedition to Exit Glacier and the Alaska Seattle Center. During the tour, cruise guests can walk around the glacier's base. The excursion also includes a trip to the state's public aquarium, which is a traditional facility that displays fish and a rehabilitation center for injured animals.
onboard activities
Regent's onboard entertainment includes daytime activities such as listening to guest lecturers, reading and lounging by the pool. In the evening, guests can enjoy live entertainment featuring singers, dancers and orchestras. Gambling and cognac clubs are also available.
Reasons to choose regent seven seas
Regent Seven Seas cruises feature some of the highest space and service ratios available at sea. In addition, guests will enjoy the highly rated dining options as well as the many shore excursions that are available.