norwegian cruise line to alaska
discover alaska with norwegian cruise line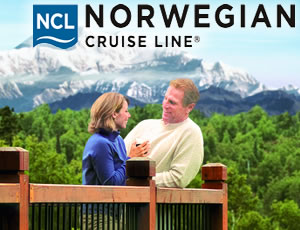 The world features many picturesque destinations. However, Alaska's uniqueness stands out as the state includes scenic mountain ranges, infrequently seen wildlife and arresting vistas. One of the best ways to see and experience Alaska is onboard a Norwegian "Freestyle" Cruise Ship.
dining opportunities
Norwegian Cruise Line offers a multitude of dining options for their guests, which include a main dining room and speciality restaurants offering a variety of different cuisines from Italian, Japanese, French and much more. Lavish buffets and 24-hour complimentary room service is also available.
Accommodations
Each Norwegian Cruise ship includes diverse staterooms with options such as interior, oceanview, balcony and suite accommodations. For guests that truly wish to be pampered on their Norwegian cruise to Alaska, it is highly recommended that they stay in The Haven Suites. The Haven suites are typically located on the highest decks of the Norwegian ships and provide opulent accommodations with concierge service and access to a 24-hour butler.
Shore Excursions
Guests who travel to Alaska with Norwegian Cruise Line can experience a wide variety of shore excursions. For example, in Juneau, cruise passengers can board a catamaran to view distinctive wildlife such as killer whales, sea lions and bald eagles. In Ketchikan, passengers will have the chance to explore the Misty Fjords, which is a stunning sightseeing spectacle.
onboard activities
Norwegian Cruise Line's onboard ship entertainment consists of live Broadway style shows, comedians and world-class singers and dancers. During the cruise to Alaska, guests can dance, sunbathe by the pool and enjoy a beverage from one of the many cruise ship lounges. For the sports fanatic, golfing, basketball and a state of the art gym are all available. For the risk taker, a full vegas-style casino is available onboard.
Reasons to choose norwegian cruise line
When travelers choose to cruise to Alaska on Norwegian Cruise Line, they'll surely experience an incredible journey featuring comfortable stateroom accommodations, a variety of onboard activities and first class entertainment.