ketchikan, alaska
ABOUT KETCHIKAN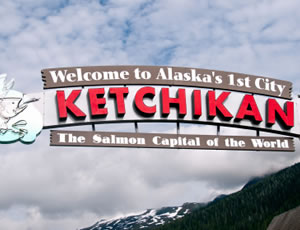 Colorful totem poles decorate Ketchikan along with steep streets, cloudy skies and lush greenery. The town's typical annual population is around 14,000, but during the summer, Ketchikan welcomes thousands of tourists who arrive to see the nearby fjords, hike through the picturesque terrain or take pictures of the town's stunning sights.
Ketchikan's location is at the foot of Deer Mountain, which stretches 3,000 feet into the air, and close to the southeast corner of Revillagigeo Island. The town began as the Tlingit people's summer fishing camp, and in 1885, Caucasian miners and anglers arrived. They settled the town, and when gold was discovered, more immigrants came to make their fortune. During the 1930s, the town claimed that it was the "salmon-canning capital of the world." Today, travelers will enjoy the abundant fishing opportunities that are available in Ketchikan.
Sightseeing
When cruise lines include Ketchikan as a port of call, the cruise ship will typically dock near the Visitor's Bureau. Therefore, guests can easily acquire directions to navigate the towan and its sites. To enjoy nature, consider spending time in one of Ketchikan's parks. The City Park includes the Deer Mountain Hatchery and Eagle Center. In addition, the Ketchikan Creek runs through the park. Salmon Falls is another nature created sight that cruise passengers will surely enjoy viewing as salmon use the step formation of the pools to travel upstream to spawn.
PLACES TO VISIT
The Tongass Historical Museum provides a cultural experience since the facility displays native artifacts and relics, such as old mining and fishing articles, from the town's early days. Totem Bight is another sight to consider visiting because it features a collection of totem poles and a hand hewn tribal home.
PLACES TO SHOP
Cruise ship passengers will have the opportunity to purchase Native Alaskan crafts from local artisans. In fact, souvenirs may be more affordable in Ketchikan since tourists can purchase items directly from the crafters. Also, visit the Saxman Arts Co-op for baskets, traditional wool blankets and woodcarvings. The location also sells jewelry and moccasins.
ACTIVITIES
While in Ketchikan, be sure to fish for salmon as the fish are plentiful and fun to catch. To see the area's memorable sights, consider taking a flightseeing tour. From the air, travelers will have the chance to view areas that are almost impossible to see from the ground. For instance, the Misty Fjords National Monument is a dazzling sight by plans.
Ketchikan offers visitors a traditional Alaskan experience with its totem poles, spectacular sights and fishing opportunities.