holland america cruises to alaska
discover alaska with holland america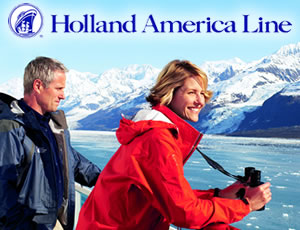 One of today's most memorable vacation destinations is Alaska. While visiting the state, travelers can go deep-sea fishing, whale watching and flightseeing. Furthermore, Alaska has unique sites such as Glacier Bay National Park and the Misty Fjords. One of the best ways to experience Alaska is with Holland America Cruise Line, which offers first class dining, 5-star accommodations and an extensive selection of Alaskan shore excursions.
dining opportunities
Delicious and creative menus are offered onboard a Holland America cruise to Alaska. Every Holland America cruise ship includes formal five course dining rooms as well as informal eating areas, which feature grilled food and vegetarian options. Guests will appreciate that Holland America's chefs use fresh produce and high quality meats to create menu items. Furthermore, wine stewards are on hand to recommend the best wine for each meal.
Accommodations
Holland America's accommodations include interior, oceanview, balcony and suite staterooms. Housekeeping is completed daily, and the rooms feature a television with a DVD player. The cruise ship's staff members equip the bathrooms with plush Egyptian cotton towels. Additional accommodation benefits include spacious closet storage, a terrycloth robe and a safe.
Shore Excursions
Holland America's shore excursions allow guests to take part in many of Alaska's unique experiences. Excursion options include bear and whale watching as well as dog sledding. To view bears in Alaska's wilderness, a bush pilot will fly guests to an observation site. Be sure to bring comfortable hiking shoes and a jacket because the trail features uneven ground. Also, Alaska's weather can change quickly. During a whale-watching trip, guests will board a vessel that is built for sightseeing. The boat has indoor seating, which is next to large windows along with a top deck for taking pictures. The dog sledding excursion takes guests to the summer training camp for the animals. While there, guests will take a tour of Alaska's wilderness on a specially designed sled that has wheels for the summer time weather.
onboard activities
Onboard a Holland America cruise to Alaska, guests can try their luck in a Vegas style casino, watch Broadway style shows or just lounge and relax with a good book. The choices are endless.
Reasons to choose holland america
By cruising to Alaska on Holland America, guests will be treated with exceptional service, 5-star dining options and incredible and unique opportunities to truly explore Alaska.