skagway, alaska
ABOUT skagway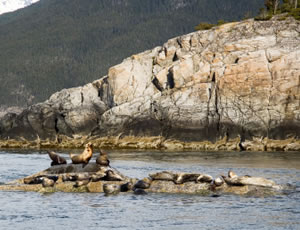 Skagway is a quaint town that is known for its natural breezes and picturesque countryside. It is 90 miles from Juneau, and the community's location is on a deep-water fjord called the Taiya Inlet, which is at the top of Lynn Canal. Jack London, the famous author, visited Skagway in 1897 while traveling in a Tlingit freight canoe.
Skagway started as a single cabin set on the channel of the Skagway River. Furthermore, the town didn't have a main road connecting it to the outside world until 1970. Before the road construction occurred, people could only reach Skagway by small airplane, railroad and boat. Today, a well-maintained road runs from Carcross and Whitehorse. It is also connected to the Alaska Canada Highway. The town's main industry is tourism, and when visitors arrive, they will have the opportunity to learn about Skagway's local history.
Sightseeing
During a visit to Skagway, you should walk around the town as it is flat and easy to traverse. Also, most of the historic sights are near the town's dock, and as a result, visitors can take their time sightseeing. Watch out for the unique architectural details and impudent advertising that is all over town.
PLACES TO VISIT
The Corrington's Museum of Alaskan History is worth a stop since it has more than 40 intricately carved walrus tusks as well as historical displays. While in Skagway, consider visiting the Moore Cabin as it is the town's first building.
places to shop
Ivory art is available from Corrington's Alaskan Ivory store. To buy silver and watercolor prints, be sure to visit Skagway Artworks while the Hunter Art Studio is the best spot to purchase traditional pieces by Alaskan artists.
ACTIVITIES
Skagway offers bus tours that revisit the town's gold rush days. The buses are classic vehicles from the 1920s, and during the tour, costumed conductors narrate the town's history. The Gold Rush Cemetery is an intriguing site to visit as the notorious villain Soapy Smith is buried there along with Frank Reid.
Skagway offers cruise passengers the oportunity to purchase unique souvenirs, hike and view historical sites. The town is also enchanting with its beautiful terrain and friendly locals.