Whittier, alaska
ABOUT whittier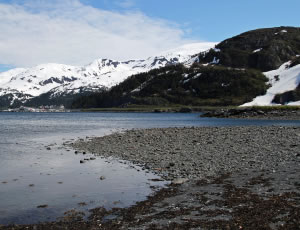 Whittier is about 60 miles southeast of Anchorage. Specifically, it is on the western section of Prince William Sound, and it sits at the peak of the Passage Canal. Sightseeing aficionados will love love Whittier since the area includes wildlife like sea lions, birds and whales as well as nature formed sites like waterfalls, glaciers and waterways.
Originally, Whittier was a part of the transportation route for the Chugach Indians from Prince William Sound. Later, the Americans and Russians discovered the area when they began surveying Alaska. Miners who arrived during the Gold Rush also used Whittier during their travels. The United States Army established the town during World War II, and in 1943, it became the main landing spot for army personnel and military gear.
Sightseeing
While in Whittier, cruise passengers can see the area's unique tidewater glaciers. During the trip, passengers can ride in catamarans, and the United States Forest Service Rangers will narrate the trip.
PLACES TO VISIT
Be sure to dine in Whittier because many of the community's restaurants create menu items from fresh seafood. You can also enjoy a gourmet espresso, fresh baked treats and ice cream. Whittier has more than a dozen waterfalls, but if you only have time to visit one, then you should view the Horsetail Falls as it is the prettiest waterfall in the area. The Anton Anderson Memorial Tunnel is an alternate site to consider visiting. In 2000, the town updated it to permit automobile traffic, and it is currently the longest railroad highway tunnel in North America at 2.7 miles long.
special events
When cruise passengers arrive to Whittier in early June, you can participate in the Walk to Whittier where residents and visitors walk from Bear Valley to Whittier to view the sights. Other activities include the geo catching event and treasure hunt, which the town hosts in the harbor. During the Fourth of July, guests will have the opportunity to see fireworks and a parade. The celebration also features kid's games, entertainment and a barbecue.
ACTIVITIES
In Whittier, you can hike, kayak and fish. Sea kayaking is especially popular due to the area's sheltered coves and beaches that are ideal for camping. Furthermore, the town's day cruises are some of Alaska's best since the area features an abundance of natural sites including steep fjords, unique wildlife and picturesque waterways.
Whittier is a classic Alaskan town where visitors can appreciate the sights, purchase unique souvenirs and enjoy the community's local events.